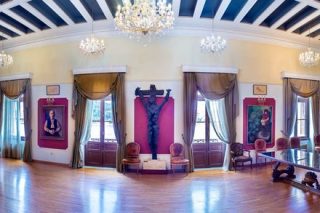 After liberation from the Turks, Evia became part of the Greek state. Recognized as a separate prefecture; G. Ainian, the first prefect, immediately founded a school in Halkida and a printing house. Shortly after he released the first newspaper Evia Halkida titled "Greeks". Many years after the independence of Halkida, the city retained the oriental character of the Ottoman period.
In 1885, Prime Minister was Ch. Trikoupis and mayor Er. Gazepis began the demolition of the Halkida wall and covered the trench with the demolition material. For a long and important period of its history, the city lost its ability to remain one of the most picturesque cities of modern Greece.
During the Balkan wars, Evia excelled thanks to the action of the Infantry Regiment of Halkida. Very famous and triumphant was the battle of Evia in Bizani lead by Major Velissariou. The Division Halkida arrived shortly after in liberated Izmir to take part in the Asia Minor campaign. After the Asia Minor disaster in 1922, refugees sailed to Halkida from the East. Most of them settled permanently in New Artaki, New Lampsacus as well as in refugee settlements in Halkida and Amarynthos.
During the Second World War Evia was bombed by German planes. In April 1941 the German army entered the capital of Evia and the German government moved into the "Red House.". The civil war that followed caused major atrocities throughout the island!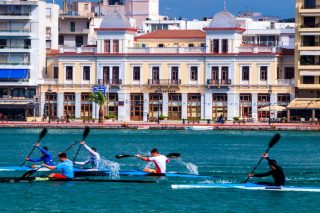 The development of Evia after its independence was continuous and significant, both economically and intellectually.