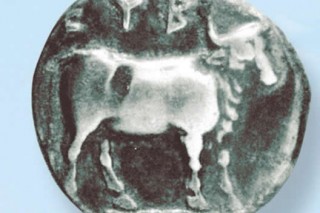 Like most of the Greek islands, Euboea was originally known under other names in Antiquity; such as Makris (Μάκρις) and Doliche (Δολίχη) from its elongated shape, or Ellopia, Aonia and Avantis from the tribes inhabiting it. Its ancient and current name, Εὔβοια, derives from the words εὖ "good", and βοῦς "ox", meaning "the land of the well-fed oxen".
The Titans were people with the form and skills of gods. It is said that they were the first inhabitants of the island of Evia. The Giants, however, came to the island and smashed them. Although the island was settled by Giants, there were still areas that secretly worshiped the Titans. According to the legend, Evia is an island of high earthquake activity because of the battles between the Titans, the Giants and the Greek gods, which are called Titanomachies and Gigantomachies, respectfully.
Based on Mythology, Zeus married Hera on the mountain of Dirfy in central Evia. Another legend mentions that this union had taken place on Mt. Ochi of Evia and another says it took place in present village of Limni.
Also, well known is the area near Chalkida, Aulis. During Homer and the epic Troy, Aulis became known in history for the sacrifice of Iphigenia which lead later to the theatrical epic "Iphigenia in Aulis", considered till today a very popular theatrical ancient play. According to Isiodo, Aulis was originally named Avantida after King Avanta. The Avantes were the second Greek tribe which settled on the island after the Ionians.
Leaving the colonization history of the island aside, maybe the most interesting finding related to mythology is the so-called "Dragonhouses" of Southern Evia. In Evia, like in many other areas in Greece, ancient Greeks used to live in dragonhouses, stone houses with huge internal spaces. They believed that dragonhouses would protect them better than conventional homes from weather conditions, as well as from mysterious natural creatures, like dragons and fairies, which they believed in. They also performed many rituals in order to get rid of creatures of the wind, as well as wind it, which was a daily problem.