The Evian earth hides in the bowels, invaluable paleontological treasures waiting to be discovered.
Kerassia's Museum of Fossils Vertebrates located in the North of Evia hosts the research findings of (mammals that lived in Evia before six million years), made by paleontologists from the University of Athens like Dinothirion Fossils, Elladothiria, Samothirion and Agylothirion, flanked by the remains of small mammals ponies, cattle and pigs but carnivorous feline samples is rare prehistoric fauna of the island of Evia.
These findings are now properly maintained by the University of Athens and presented to the public in an original manner.
Mineral Springs and Spas
Hot springs are called the natural up-welling of hot water that have healing properties, with ingredients suitable to cure various ailments.
Famous for its thermal springs is Edipsos located in Northern Evia. The spa is considered the most comprehensive therapeutic of its kind. Today there are more than 80 hot springs where the temperature ranges from 28°C to 80°C. Reports of special hydrologists' doctors and other scientists arrive to the conclusion that the thermal waters and Edipsos and Yialtra are ideal for conditions such as arthritis, rheumatism, spondylitis, lumbago, sciatica, anchylosis, migraines, tendonitis, chronic gynecological diseases, angiopathy, but also for the revitalization of aesthetics and beauty. Today Edipsos is a health-resort well organized, ready to accommodate visitors arriving for curing health conditions or an emerging health tourism destination.
The Petrified Forest and Kerassia's Museum of Fossils Vertebrates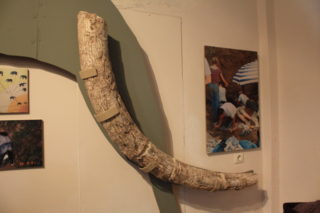 The Petrified Forest Kerassia located in northern Evia and is a unique natural monument of Geological heritage with great interest.Significant findings are petrified logs throughout the region. There, on farms, showing clusters of petrified trees, large as well as pieces of petrified logs. From studies in paleoflora area, allegedly has aged 10-25 million years. The creation of the Petrified Forest is associated with intense volcanic activity occurred in the area 10-25 million years ago.
Kerassia's Museum of Fossils Vertebrates 
Inaugurated in September 2006 and houses the paleontological richness of the area. Excavations in Kerassia have found fossils of mammals that lived in Evia more than six million years ago. These findings are properly maintained by the University of Athens and presented for the first time to the public in an unique manner.